When it comes to recreational space, not all neighborhoods are created equal. Low-income communities and communities of color consistently have the fewest parks and recreational facilities. In some communities, the recreational facilities that do exist may seem unsafe; may be hard to get to by foot, bike, or bus; and may be poorly maintained due to insufficient funding. This means that residents of these neighborhoods often have very few, or inadequate, opportunities for physical activity. This is reflected in disparities in health outcomes.
Shared use can be an effective strategy for reducing these race- and income-based health disparities by increasing opportunities for physical activity. Because it makes use of existing facilities, shared use is a particularly potent tool in under-resourced neighborhoods, where a lack of funding prevents the development of new recreational spaces.
Learn more about the wide-ranging benefits of shared use by downloading our infographic and fact sheet on advancing health equity, which are linked below.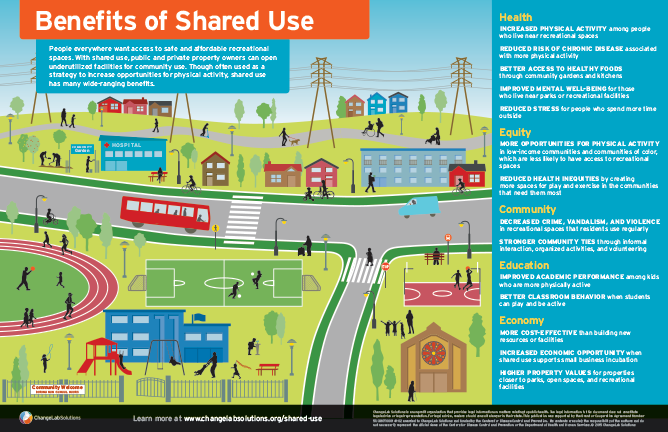 An adaptable, cost-effective strategy, shared use can promote physical activity, equity, and health. This infographic illustrates how shared use can have broad benefits that touch public health, the economy, the environment, the educational system, and civic life.
This fact sheet provides an introduction to shared use as a strategy for reducing inequities in recreational access. It also highlights considerations that may be of particular concern to low-income communities and communities of color as they assess different shared use arrangements.