Two New Resources! Exploring the Benefits of Shared Use
Two New Resources! Exploring the Benefits of Shared Use
May 2, 2016
In communities across the country, residents are seeking safe, accessible, and affordable places for exercise and play. Shared use is a practical solution because it allows people to exercise and play at existing recreational facilities, such as playgrounds, walking trails, and gymnasiums.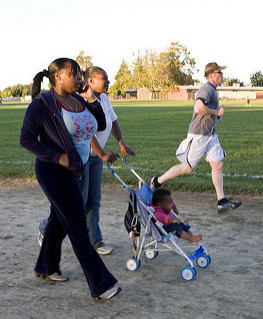 An adaptable, cost-effective strategy, shared use can promote physical activity, equity, and health. We have two new resources to help you accomplish your shared use goals:
The Benefits of Shared Use: Increasingly, communities are using shared use to create opportunities for both exercise and other activities, such as gardening, cooking, and community engagement. Our colorful infographic shows you where you can create community recreational space, and highlights the many broad benefits of shared use.

Updated Shared Use section of our website: We've reorganized our shared use resources, tools, and policies. Whether you're new to shared use or an experienced shared use practitioner, this section will provide you with the tools you need.
Contact us for help developing the best shared use arrangement for your community!